Why it is important to educate your audience and how to do it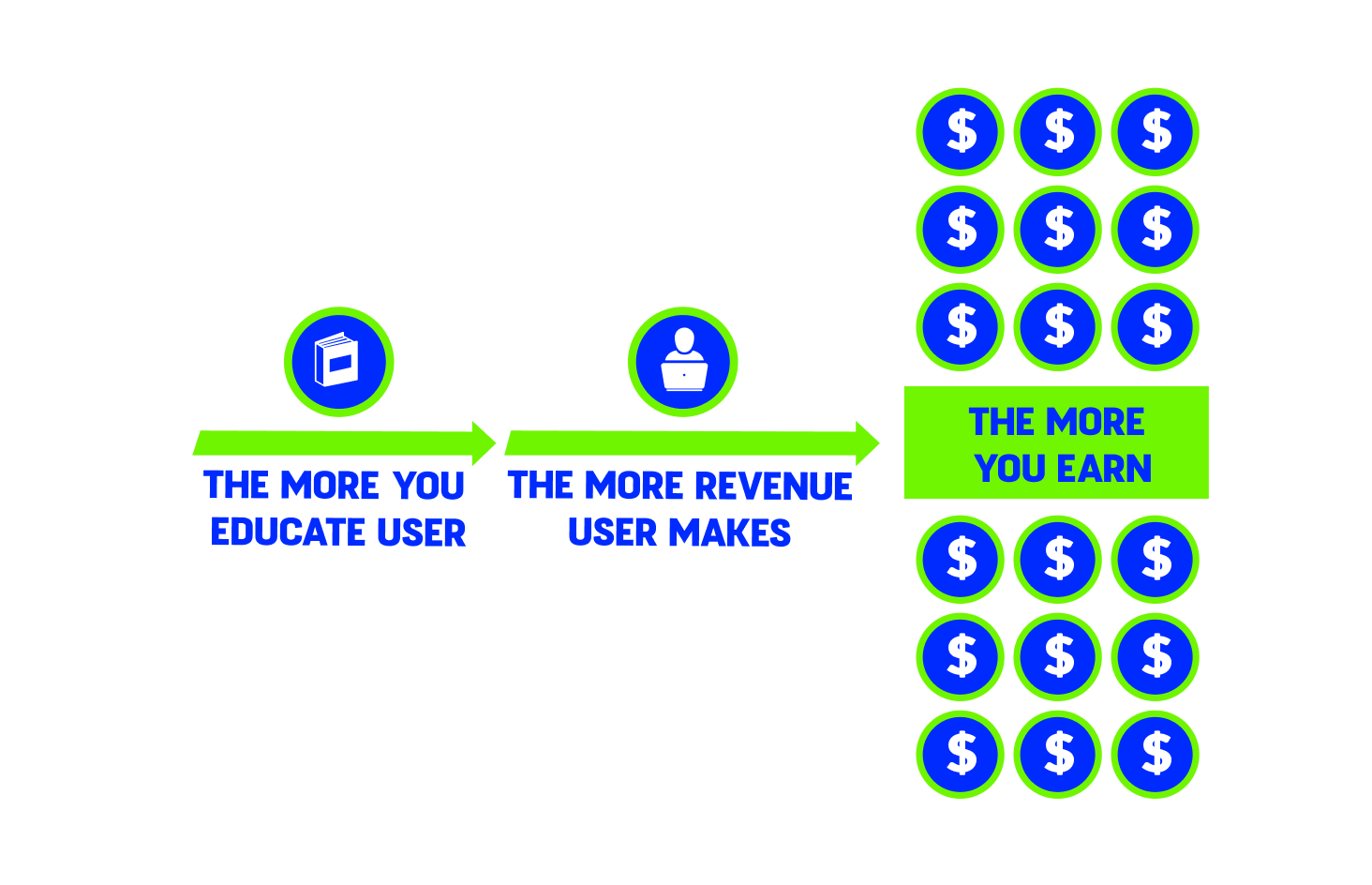 I often hear it from different people: "I don't have money for content marketing", "We already tried to run a blog, but it didn't work", "I'd rather buy more paid advertising for this money".
I think that it all depends on how exactly you do content marketing. I find the educational part of content marketing extremely important.
What's why, in this article, I will tell you:
Why it is important to educate your audience
How educational content works for different business models
How to create effective educational content
What market education is and why you need it
What is market education and why do you need it?
Market education is a tactic that helps you get new customers and retain existing ones through teaching the audience.
You can give users information about the industry, ways to solve their problems, etc. For example, consulting companies make guides about industry trends, online courses make free short courses about new professions.
Awareness ladder shows how it works before purchase: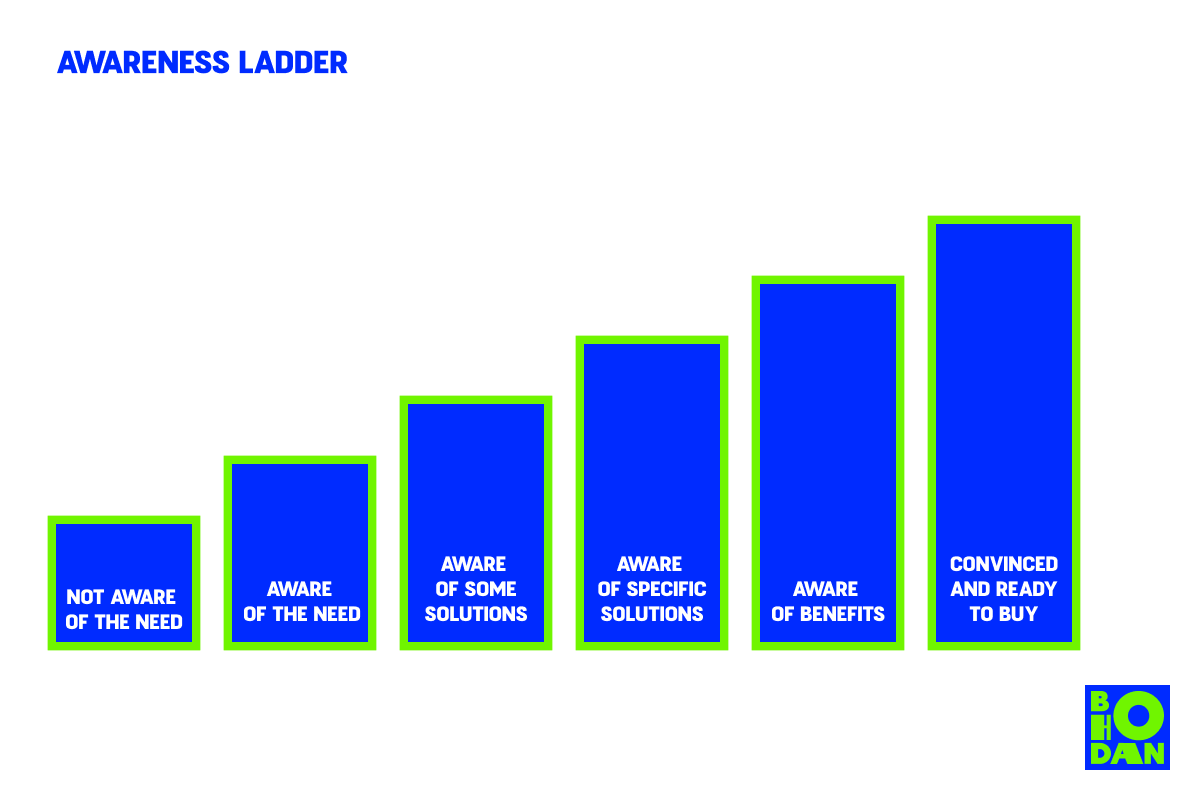 When users don't recognize a problem, education highlights it. When users recognize the problem, education explains how to solve it and how the product may help.
All that increases perceived value of a product and decreases perceived price and friction.
But education works as well after purchase.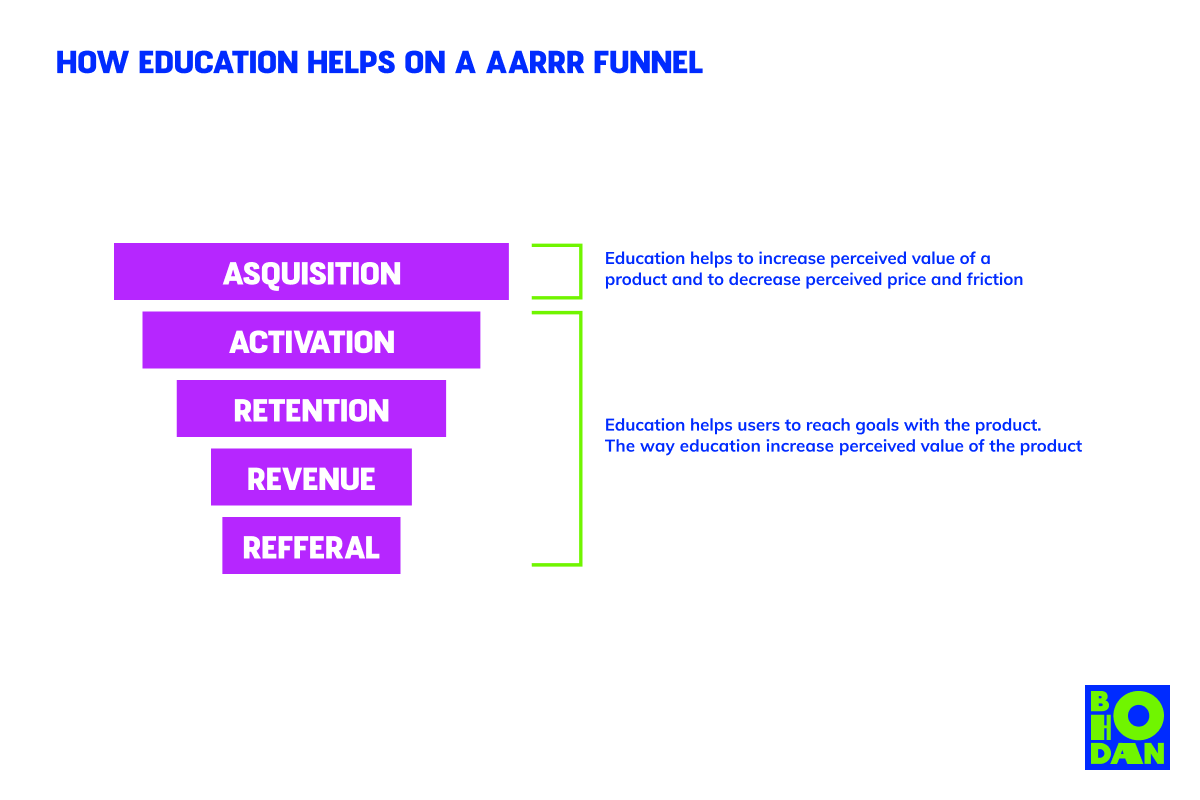 When users convert, education helps to activate them. After that, education helps to retain users.
Users are hiring products for a certain "job". The more successful they are with reaching their goals, the more they might associate the success with using your product. That's why by additionally educating your users, you can make them more successful at reaching their goals and using your product.
Let's take a look at how it works with different business models.
How does educational content work for different business models?
In this part, we will see how educational content works for subscription, usage-based model and revenue-share model.
Subscription
A subscription business model is a recurring revenue model in which customers pay a weekly, monthly, or yearly fee in exchange for your products or services.
It's getting more expensive over time to acquire new customers.  Customer acquisition cost (CaC) keeps increasing and for most businesses, it's this way because of the rising advertising costs and more intense competition and market saturation over time.
So, if you have a subscription business model, your main priority is to keep retention high. It's cheaper to keep current customers than to attract new ones.
You want to educate not only new users, but the current ones too. You want them to solve their problems better and have more success thanks to your product.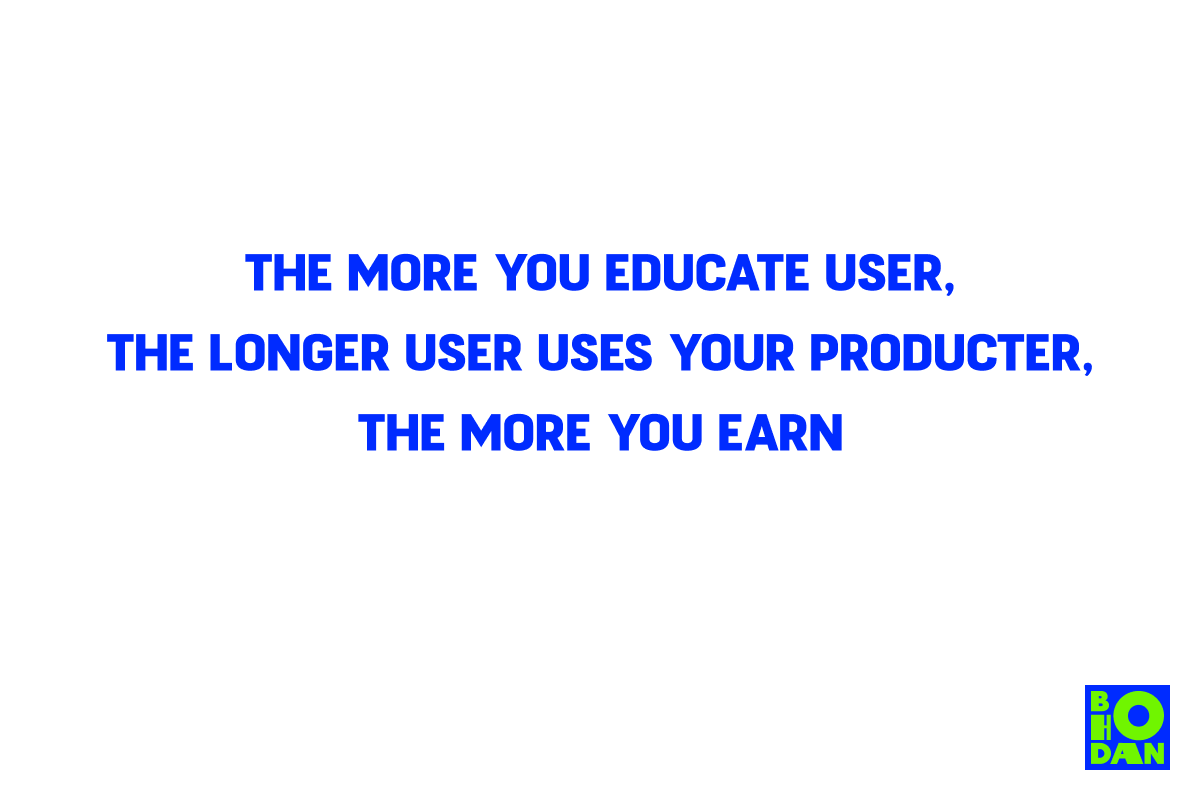 But it's not only about how long the users are retained, it's also about users being more successful in reaching their goals with your product.
If a customer churns after 1 year, but he is happy with the 'job' your product did — it's still a success. This customer reached his goals with your product. Now he is your brand ambassador.
Let's dive into examples.
Often, SaaS create their own academies to teach users. For example, Ahrefs created open courses about SEO and business blogging with all the practice on Ahrefs tools.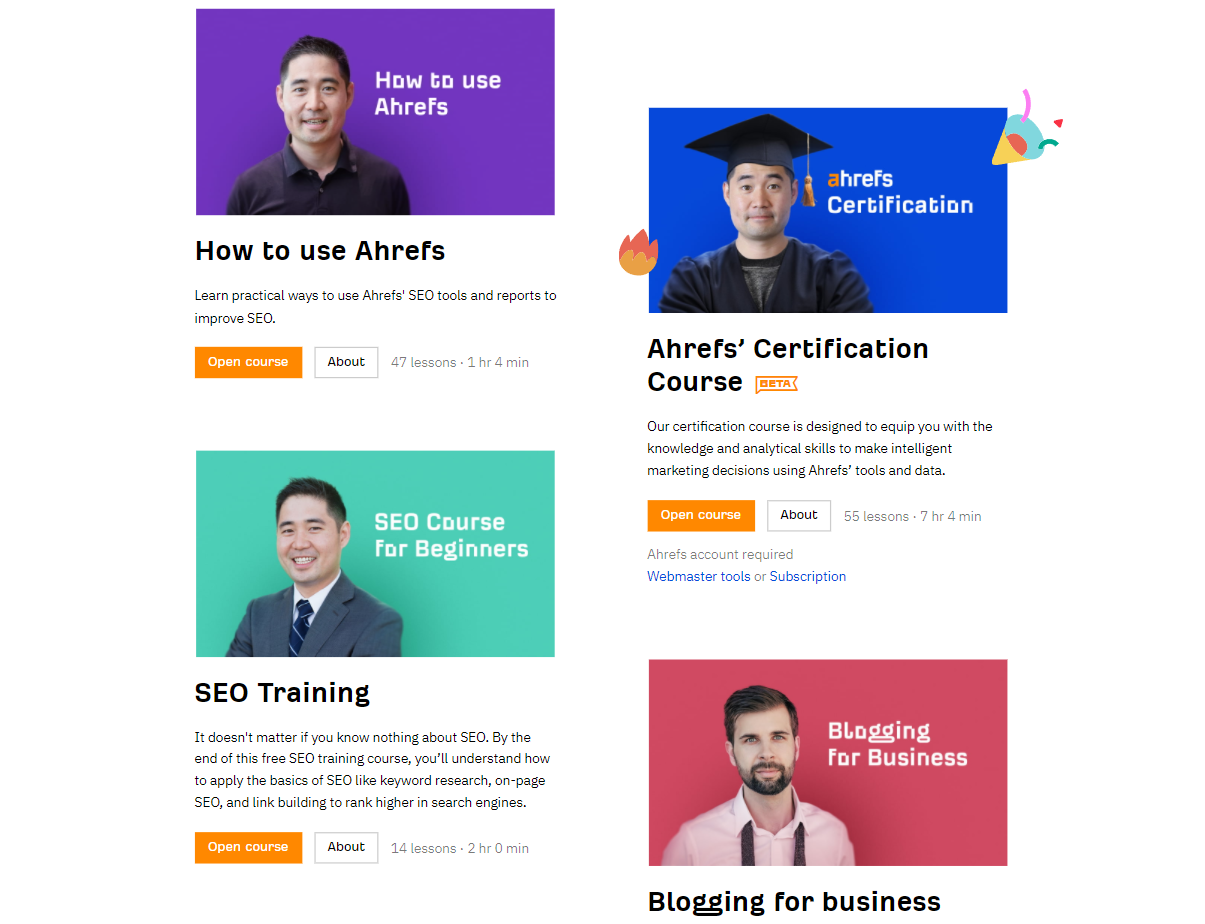 They also publish articles and guides for solving problems through Ahrefs.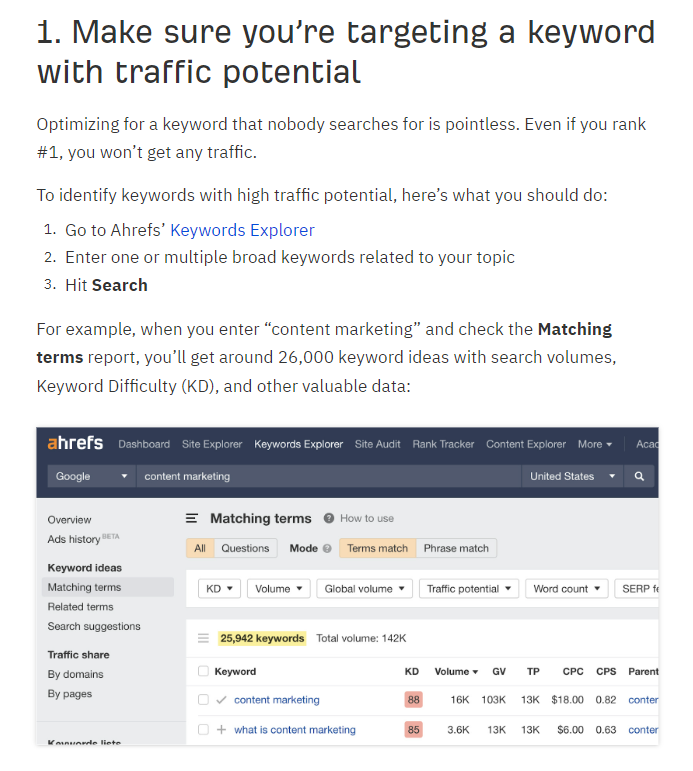 That's a best practice in SaaS: to take a user's problem and show how a good product can solve it. But the main thing here is not to just add your product, but to give value to the user.
That means:
to give clear instructions about solving the problem
to show different ways to solve the problem (not only using our product and maybe even referring to other products that can solve the problem better)
to provide information about pitfalls
to be honest (not to promise something they can't give 100%)
Users see when a company wants to fool them. And that doesn't make it more attractive for them - definitely not.
Let's take a look at another example. Adobe doesn't have online courses on its products. Instead, Adobe gives small lessons and tutorials. That can help users to get started.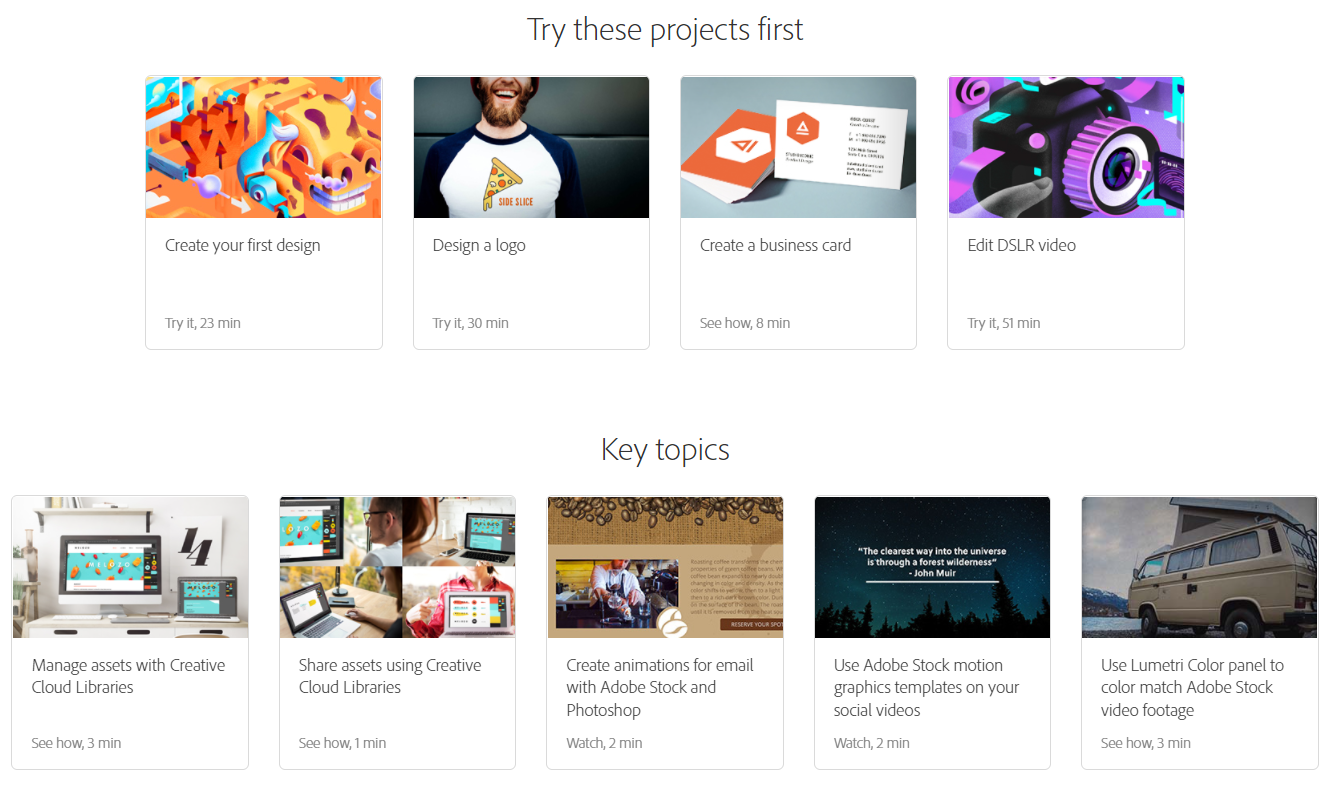 But that's only a small part of the Adobe educational content. Most of it is located on the YouTube channel, with more than 1 million subscribers. That's logical — users often look for tutorials on YouTube.
You can use market education not only for B2B products, but also for B2C. HeadSpace provides users with articles about anxiety, sleep and mindfulness. This way, users can better understand their problems and, after that, solve these with free meditations from HeadSpace.
On most social networks, HeadSpace doesn't post educational content, only supportive, but the YouTube channel also has educational playlists.
Usage-based model
Usage-based pricing is a SaaS pricing model that allows customers to pay for only what they use or consume. Billing occurs at the end of the billing cycle. In contrast, a subscription pricing plan is billed at a flat rate, regardless of how often they use the service.
There are lots of subscription-based SaaS products, the price of which also depends on how extensively the product is used, and once the company becomes more successful, they have to upgrade to more expensive plans.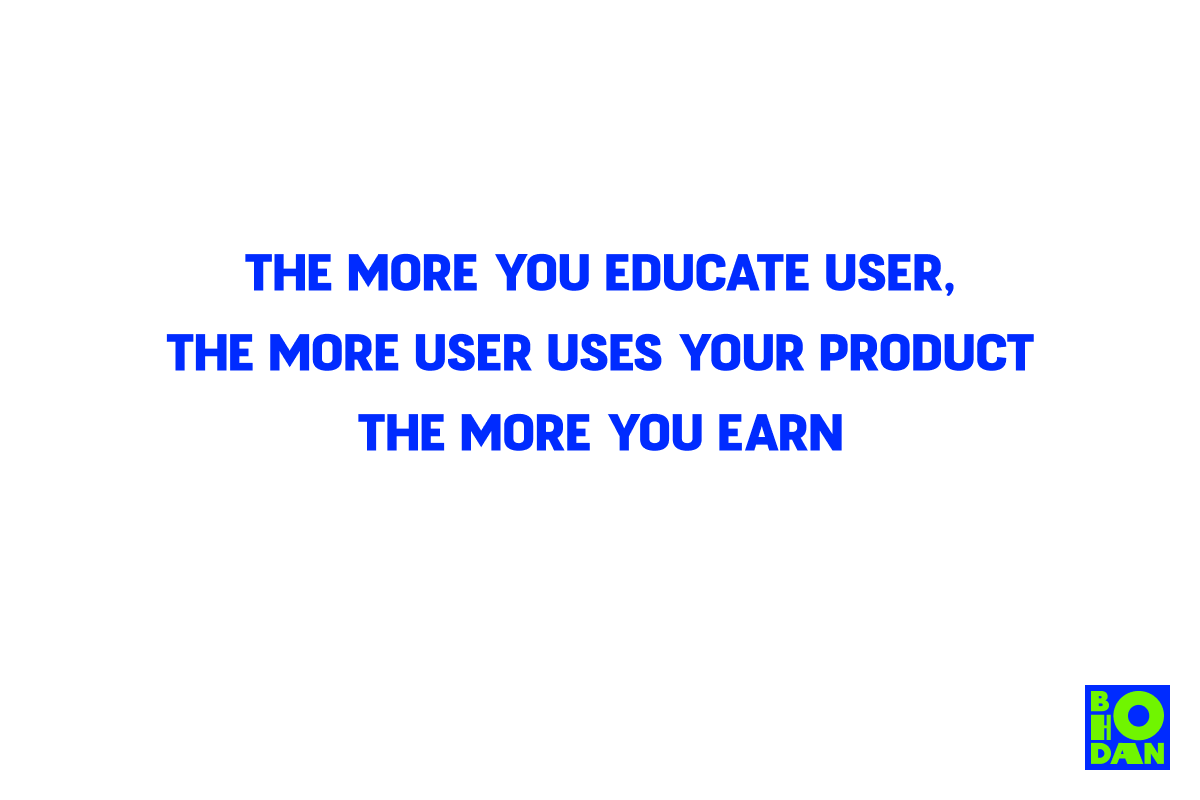 Let's see how such companies educate users. Customer data platform, Segment, suggests free courses, guides, case studies, reports and training for users.
There is only one difficulty. Users need to leave their emails to get access to educational content. This is how the company receives the user's emails.
Pendo uses a different approach. Users can read the first part of the content. If they want to see more, they should give contacts.
Along with using articles, white papers and guides, Pendo encourages users to sign up for a demo call.
Revenue-share model
Revenue-share model is a pricing model that allows customers to use a product for free and to pay only if they earn money with this product. In this case, the company takes a percentage from users' outcomes.
So, it's profitable for a company to educate users. The more a company educates users, the more successful users become and the more a company earns.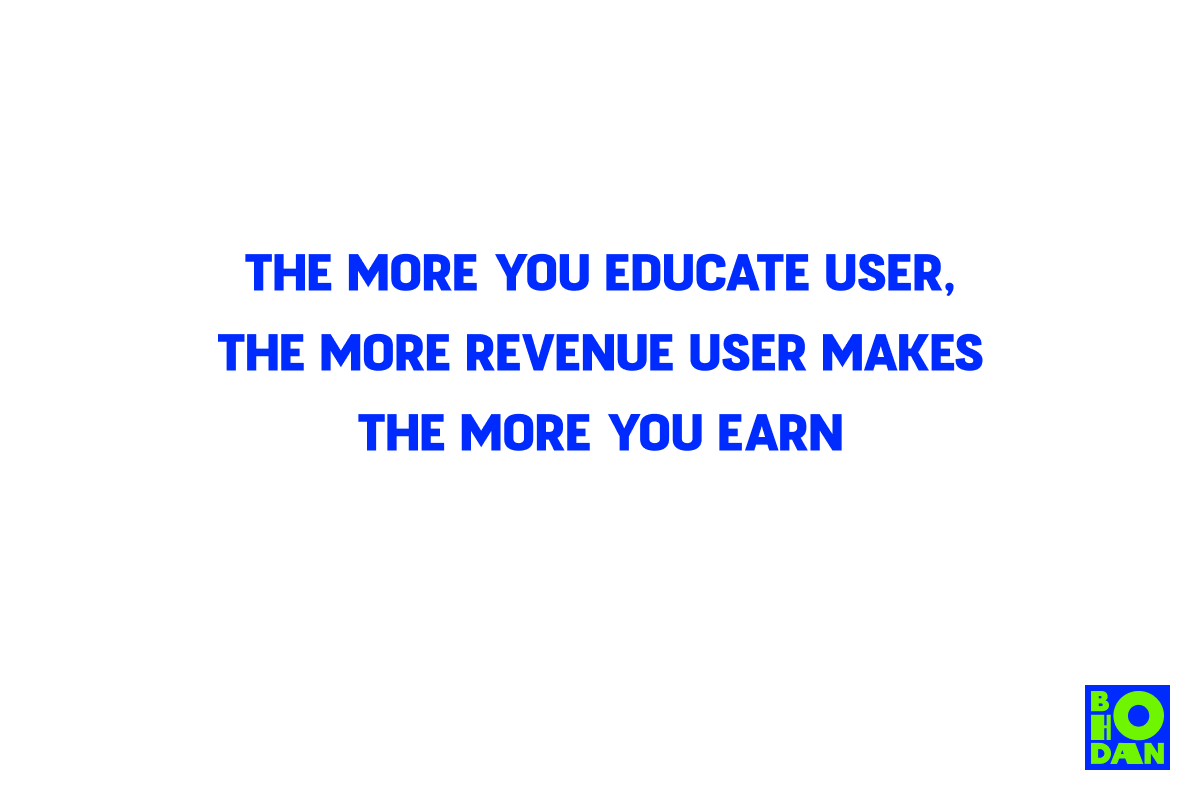 Adapty created an email course that helps app owners to improve app monetization.
Another example is Patreon. Patreon created a blog that helps creators start a membership and grow it.
Want to read full article with the ultimate guide about educational content? Subscribe to my blog (it's free) 👇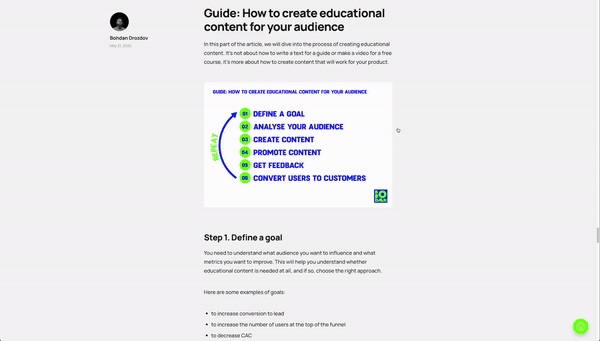 This post is for subscribers only
Already have an account? Sign in.